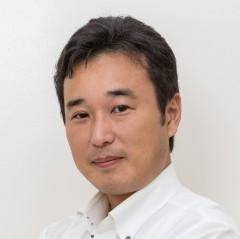 "DELIGHT started by chance. By chance,
I met an older alumnus from my university's tennis club, who worked at a television station, for the first time in several years, through work. We asked each other if we still played tennis. That was just before summer of 1999.
Afterward, we started talking about how it would be nice if there was a website where people could look for opponents, get in touch with long lost friends, and make new friends on-line. After that, the discussion expanded to "not just tennis, and not just within Japan, but all kinds of opportunities," with the thought that this could be an ambitious and interesting business idea."
"ディライト社の始まりは、偶然です。
テレビ局に務める大学のテニスサークルの先輩と、数年ぶりに 仕事を通じて偶然再会し、ところで、最近テニスやっている? と話をしたのが、 1999年の夏になる前でした。
それから、ネットを通じて対戦相手を探したり、消息不明の仲間と出会えたり新しい仲間さがしが できるホームページがあったらいいね話をしたところから話が始まりました。
その後、「テニスに限らず、日本に限らずいろいろチャンスがあるね」と話はどんどん大きくなって、 ビジネスとしてやっても夢があっておもしろいのではないかと思うようになりました。"
Founder & President (代表取締役)
"We are trying to change our business model fit recent situation caused by COVID-19.
Like making our brand stronger and get wider attention to our business agent model. "

"新型コロナウイルスの影響で、会社の事業モデル変革が加速できる状況となりました。
ブランド強化とビジネスエージェント事業をより広く知っていただくことを実践しています。"